I have been home from Idaho almost 2 weeks, I figured it is about time I wrote down a few words on the experience. I was gone 11 days….it is amazing how much work and family chores pile up. If you have ever come back to the hustle of the city after a long stay in the wild, you will understand the shock my brain went through. Dang.
Nobody in our group killed an elk. I got close….25 and 40 yards on 2 seperate occasions….but none of us loosed an arrow. Tough trip? Physically, yes. Bad trip? Hell no. I had the time of my life. I spent time in camp with some old friends, especially Tim Cosgrove (www.kustomkingarchery.com) and his son in law Eric Bell. I have hunted with them many times in the Michigan Upper Penninsula, and I always enjoy our time together. Eric was the organizer of our trip, without him it would have never happened. He also brought together a pretty good bunch of guys. Here is the complete hunt crew:
Eric Bell…Helluva organizer, strong as a bull, and shows up to hunt. One of my mottos was, "If I kill an elk, go get Eric"
Tim Cosgrove….Loves traditional archery the right way. He loves and notices the "neat" things about a hunt. Camp without Tim isn't camp.
Todd Smith…The perfect hunting companion and backwoodsman.
Eric Laborde…Quiet, thoughtful, I can see why Eric has been his lifelong friend.
Steve Carpenter…One of the kindest men I have ever met. He would give you the string off his longbow if it made your hunt better.
Art Kragnas….74 years young, cheerful, and can keep up with any of us physically. Truly someone to be admired.
Jeff "Woody" Orourke…A hard hunter, great sense of humor, a good guy to have around
Me…Pretty much a lazy woods bum. 
Each person had a role, each guy added something positive to camp. There was no complaining, no whining, and everyone pitched in (although Cosgrove and I realized later that we didn't wash dishes as much as we should have…whoops)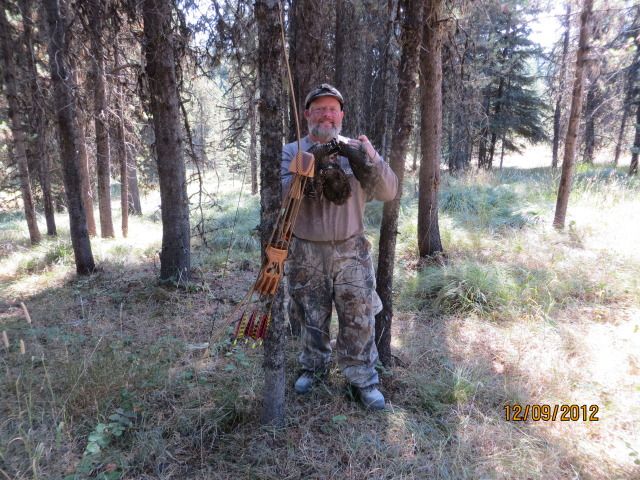 I was extremely fortunate to have Todd Smith (www.ToddSmithCo.com) as my hunting partner. Todd is an interesting guy. Extremely capable in the wilderness, he left Indiana for Alaska at 19, and excelled as a backwoodsman. Todd has an absolute respect for nature and the wilderness that I greatly admire. He is in great physical shape and pushed me harder than I would have pushed myself. When we finally found the bulls, Todd generously chose to call. "Sneak in there and shoot one", he said. He didn't have to ask twice. More on that later.
We "won" our trip at Compton this year, it was donated by an outstanding traditional bowhunter, Bob Boyd. Bob was also in the area, and he made the offer of taking a couple of us up to a more remote wilderness area (I'm not mentioning exactly where on purpose). Bob is a fellow Michigander, but he also has a place in Idaho, where he keeps a couple of mules. He came by our cabin one day, and made the aforementioned offer. This is where I realized I have some good buddies…Todd and I were still out when he came by, but Tim Cosgrove spoke up and said, "That sounds like something Todd and Roger would be all over"
Tim was right. When Tim told us of the chance to take some mules and go deeper, I jumped in the pickup and drove down to Bob's place to work out the details. I don't think Todd said a word, he just started packing.
I had trained since June for this trip. Stairs, trails, weighted backpacks, the gym. And we had been hunting hard for a few days before the mule trip, so I was confident in getting into some rough country. The mules hauled our gear in, Bob showed us a good place to camp, and then we were on our own. Todd and I made a quick camp, and got after the elk. We started hearing some bugling, and at first tried to entice the bulls to us. It wasn't working. We decided that a better tactic might be one of us calling, and one of us sneaking in.
I had 2 great stalks, both of them on the same day, and we think on the same bull. On our second morning, Todd led the charge up a pretty steep mountain, in search of that ever elusive "north slope" where we had been told the bulls spend their time. We spent a few hours sneaking around on top, which was way thicker than I expected…like someone had taken a Michigan cedar swamp and plopped it onto a mountain.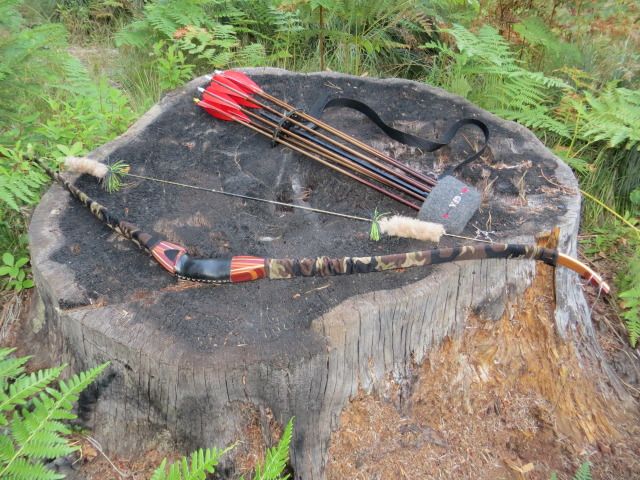 As we stood on the crest, enjoying some beautiful scenery, Todd decided to bugle. We didn't expect much…wrong. Immediately to the east a bull screamed. Loud. Close. We headed in his direction. We quickly made the decision for me to sneak in, while Todd kept him talking.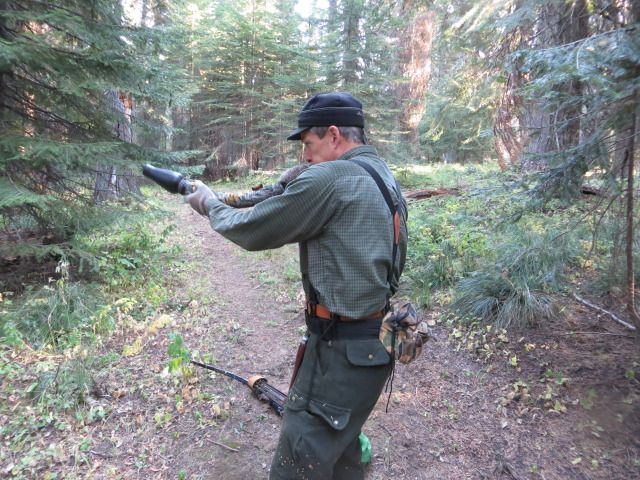 I know Todd has hunted elk before, but I don't think he has called much. His nature is to be quiet and sneak. But his effort that day was masterful. At one point I looked over at him, and he was bugling and swaying like a saxophone player. He matched the bulls call note for note, escalating his "anger" as the bull did.
I headed down the slope, and tried to close the gap. I did ok, and quietly got within 40 yards. I could see his color through the trees, and see his movement. I suppose if I were a rifle hunter, I could have picked a hole in the brush and ended it right there. But what the hell fun would that be?
 I paid close attention to the dental floss tied to my upper limb. The wind began to swirl, and I backed out and got about 1/2 way to being able to attack from another side. Too late. I felt the wind on my neck, and 10 seconds later the bull was gone. And worse, quiet. We got one more bugle out of him, in the direction of an old corral we had found earlier. We made plans to back out, and try to sneak into the corral area later in the day. We went back to camp.
We had to pack up camp, and head out that night. But we both knew darn well that we were there to hunt elk…and if this one would cooperate and bugle, we may be in for a long night. We gathered camp, and headed down the logging trail to the general area of the corral. We stashed our camping gear, and snuck in.
Todds bugle was answered immediately. I commenced to sneaking. I traveled down our "hill", through a beautiful wet meadow, and then back up the other side. I think I might have traveled 400 yards, but it took me about 2 hours. Todd called and banged on trees. The bull screamed back at him, and thrashed the vegetation with his headgear.
The cover was amazingly thick. More than once I said to myself, "Well, this is as far as I can go". But the bugling kept up, so I kept pushing forward. The elk tracks dropped down into a creek, so I went with them. I followed the creek north for 40 yards, and popped up on the other side. Todd was still keeping our bull vocal, which helped me plan my route.
The logs and timber that these elk seemingly step over is incredible. I was climbing over, climbing under, all the while trying to do it silently. As I got closer, I only moved when the elk was bugling. I was 35 yards out, when I dropped down to all fours. I remembered something in Fred Asbells book about all fours being quieter than crawling on your belly. I got in 10 more yards. I was stuck.
At 25 yards I could see the elk. I could see him stomping his hooves into the pine needles, busting up logs, and thrashing trees. I could feel his bugle, not just hear it. And then I felt the wind change. And so did he. And it was over.
I walked back to Todd. We weren't sad or upset, quite the contrary. We high fived and grinned about the experience. I was thrilled with Todd's performance on the bugle. He was happy that he helped me get so close. We gathered our gear, and headed out. Out to the truck, and then back to the cabin. The 4 mile hike down to the truck flew by as I replayed the last few hours. It was a long hunt, 11 days. But the last few hours will be that hunt in my memory. Awesome. I will be back.
See You Down The Trail……